Live auction - bry_830176

-

CHARLES IX Demi-écu d'or au soleil du Dauphiné 1566 Grenoble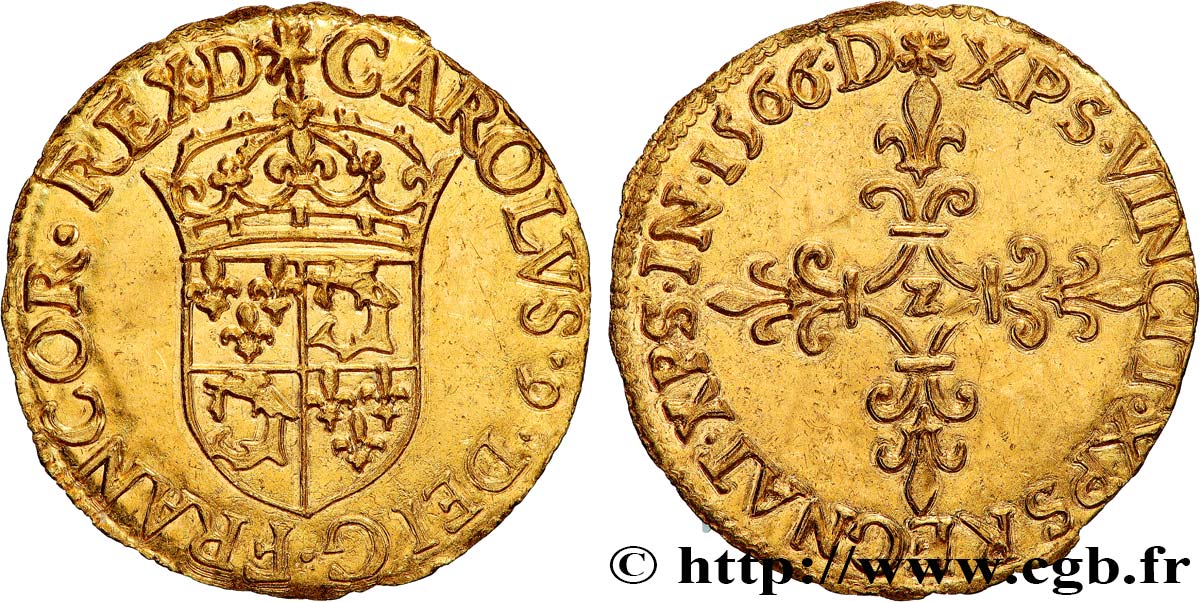 Чтобы принять участие в торгах, вы должны войти в систему и стать подтвержденным участником аукциона.
Войдите, чтобы сделать ставку
. Ваш аккаунт будет подтвержден в течение 48 часов. Не ждите до закрытия торгов, чтобы зарегистрироваться.Сделав ставку на данный товар, вы вступаете в юридическое соглашение на покупку выбранного товара и нажатием кнопки «Сделать ставку» подтверждаете принятие
вами условий интернет-аукционов cgb.fr
. Ставка может бить сделана только в полном эквиваленте евро. Торги закроются согласно времени, указанному в описании товара, все ставки, сделанные после закрытия торгов, учитываться не будут. Не следует откладывать предложение вашей ставки до последнего момента, так как система может не успеть обработать вашу заявку, и ваша ставка не будет принята. Более детальную информацию вы найдёте здесь:
FAQ по интернет-аукционам.
Все ставки победителей подлежат комиссии 18%.
Тип
Demi-écu d'or au soleil du Dauphiné
Монетный двор / Город:
Grenoble
Количество отчеканенных монет:
2800
Ориентация осей монеты:
6 h.
Комментарии о состоянии
Ce demi-écu d'or est frappé sur un flan large et légèrement irrégulier. Monnaie de toute beauté, avec son brillant et son coupant de frappe. Petite faiblesse de frappe à 5 heures au droit. Monnaie pour laquelle nous avons hésité à mettre SPL
Лицевая сторона
---
Аверс: легенда:
(SOLEIL À SIX RAYONS) CAROLVS. 9. DEI G. FRANCOR. REX. (MM).

Аверс: описание:
Écu couronné, écartelé aux 1 et 4 de France, aux 2 et 3 de Dauphiné.

Аверс: перевод:
(Charles IX, par la grâce de Dieu, roi des Francs).

Обратная сторона
---
Реверс: легенда:
(ROSE) XPS. VINCIT. XPS REGNAT. XPS. IN. 1566. (MM).

Реверс: Описание:
Croix fleurdelisée avec un losange incurvé en cœur contenant la lettre d'atelier (Z).

Реверс: перевод:
(Le Christ vainc, règne et commande).

Комментарий
---
Demi-écu d'or ayant fait l'objet d'un article dans le Bulletin Numismatique du mois de mai 2023, dont nous reprenons quelques éléments :
Une monnaie d'exception enfin retrouvée : le demi-écu d'or du Dauphiné de Charles IX (Grenoble, 1566).
En 1956, Jean Lafaurie et Pierre Prieur mentionnaient l'existence d'un demi-écu d'or de Charles IX pour le Dauphiné, cette monnaie restant à retrouver. La notice n° 894, p. 83, de leur ouvrage indiquait :
« Demi-écu d'or du Dauphiné. Même description. Poids légal 1 gr. 68. Atelier Grenoble. Il a été frappé, au moins en 1566, des Demi-écus d'or au type delphinal ; aucun exemplaire n'a été retrouvé ».
Depuis 1956, aucun demi-écu d'or n'avait été retrouvé et cette pièce est l'une des plus rares – si ce n'est la plus rare – du règne de Charles IX.
Le différent d'atelier de Grenoble, la lettre Z, est présent en cœur de la croix du revers et est complété par une rose située du même côté, en début de légende. Le différent du maître Pierre De Luan, en exercice de 1556 à 1567, est constitué par la lettre D placée en fin des légendes.
Le type de cette monnaie est en tout point similaire à l'écu d'or (Figure 2) avec toutefois une absence de point secret sous la troisième lettre de la légende du droit. Hormis ce petit détail, seuls le poids et le diamètre permettent de distinguer l'écu d'or du demi-écu.
Comment connaissait-on l'existence de cette monnaie sans jamais l'avoir retrouvée ?
Les registres des délivrances ou les états annuels récapitulatifs des productions des années 1560 ne sont pas conservés pour Grenoble. Il existe toutefois deux registres conservés aux Archives nationales, celui notant l'apport des boîtes des monnaies du royaume au greffe de la Cour des monnaies (AN, Z1b 296, f° 11 v°) (Figure 3) et le registre dit du contrôle de la recette générale des boîtes (AN, Z1b 301, f° 105) (Figure 4). Ces deux registres, indiquent que la boîte de l'année 1566 de la Monnaie de Grenoble contenait notamment 11,5 écus d'or, donc des demi-écus. C'est sur la base de ces deux registres que Pierre Prieur, qui a fait les recherches et dépouillements en archives pour le « Lafaurie/Prieur », a pu supposer l'existence de cette monnaie. La boîte de l'année 1566 de la Monnaie de Grenoble a été apportée au greffe de la Cour des monnaies le 16 mai 1567 et elle fut ouverte le premier juillet suivant.
Pour les années 1562-1563, 1565-1569, 1573 et 1574, des frappes d'écus d'or du Dauphiné sont bien attestées à Grenoble, toutefois, hormis 1566, les autres chiffres de mise en boîte tombant justes, nous ne pouvons pas affirmer que des demi-écus d'or aient été frappés à d'autres millésimes que 1566. Le chiffre de frappe en écus se situe autour de 2300 exemplaires, en suivant la règle de mise en boîte d'un écu d'or mis en boîte pour 200 délivrés. Ce chiffre, assez faible, comprend une faible quantité de demi-écus d'or
.

Историческая справка
---
CHARLES IX
(05/12/1560-30/05/1574)
Born in Saint-Germain-en-Laye in 1550, son of Henri II and Catherine de Medici, Charles IX succeeded his brother Francis II in 1560 at the age of ten. His mother therefore exerts the regency, and his cousin Antoine de Bourbon lieutenant general of the kingdom. His "reign" begins with the States General met in Orleans in December 1560 - January 1561 and the Colloquy of Poissy (October 1561), which allows the exchange of ideas Catholic and Protestant. In January 1562, the Edict of Saint-Germain Reformed gives a quasi-religious freedom outside walled towns. The civil war between Protestants and Catholics began with the massacre of Vassy (March 1562), where the Duke of Guise slew Reformed gathered in a barn. In reply, the Prince de Conde took up arms and seized several towns. Forced to take sides, Catherine began to head Catholic. Massacres answered the massacres and Protestants profaned churches and tombs. All France was soon destroyed by the troops of each other. At the Battle of Dreux (December 1562), Guise gave victory to the Catholic camp, but he was assassinated a few months later, in February 1563. The edict of pacification of Amboise, in March 1563, was negotiated by Montmorency, for Catholics, and Condé, for Protestants. He gave freedom of worship and a noble city Bailiwick. Charles IX was declared major in 1563 and his mother tried to re-establish the royal authority. The order of Moulins (1566) including decreased power of parliaments and governors. To restore harmony, the Queen Mother gave to his son a long tour of France (1564) and led a life of brilliant court. Dissatisfied with the reconciliation of royal power with Spain, unhappy with the implementation of edicts, Protestants projected: to seize the person of the king. The court took refuge at Meaux then went to Paris (September 1567). After a brief respite, disorder and massacres began again. Protestants blockaded Paris and fought the indecisive battle of Saint-Denis (November 1567), where Montmorency was killed. The second son of Catherine, Henry of Anjou, then took command of the Royal Armed. Peace was signed in March 1568 in Longjumeau: the provisions of the Edict of Amboise were restored. In the context of the Tridentine reaction, the Catholic party then began to bounce back. Mendicant orders and the Jesuits were broadcasting the watchwords. Armed brotherhoods were created. The Duke of Anjou defeated and killed Condé at Jarnac (March 1569). Despite the help of German Protestants, the Protestants were defeated a second time Moncontour (October 1569). A new edict of pacification, signed at Saint-Germain, intervened in August 1570: the Protestants received four cities safe: La Rochelle, Montauban, Cognac and La Charité. The Lords reformed reappeared at court and Coligny became the favorite of Charles IX. Jealous of this competition, Catherine decided loss of Admiral. In favor of the marriage of Henry of Navarre, nominal head of the Protestant party, Marguerite de Valois, the Catholic party took advantage of the gathering in Paris many Reformed leaders: it was the massacre of St. Bartholomew (24 August 1572). The king and his mother had been drawn into the case, where the collective fury was the main two thousand victims. The war continued, unforgivable. The south had revolted, with the complicity of Montmorency-Damville Governor Languedoc. The Edict of Boulogne (July 1573), which gave freedom of conscience and freedom of worship assured in La Rochelle and Montauban, could not stop the war. King of a kingdom torn toy events, Charles died without male offspring May 30, 1574, leaving the crown to his younger brother, Henry, King of Poland.