Live auction - bry_799307

-

HENRY IV Écu d'or au soleil, 2e type 1591 Tours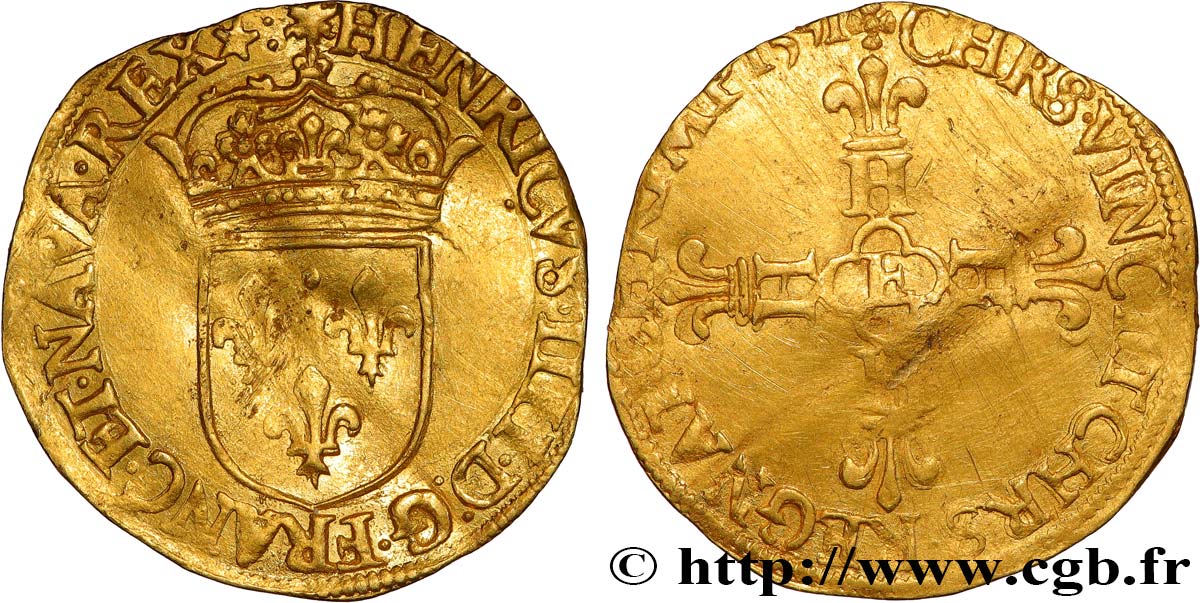 Чтобы принять участие в торгах, вы должны войти в систему и стать подтвержденным участником аукциона.
Войдите, чтобы сделать ставку
. Ваш аккаунт будет подтвержден в течение 48 часов. Не ждите до закрытия торгов, чтобы зарегистрироваться.Сделав ставку на данный товар, вы вступаете в юридическое соглашение на покупку выбранного товара и нажатием кнопки «Сделать ставку» подтверждаете принятие
вами условий интернет-аукционов cgb.fr
. Ставка может бить сделана только в полном эквиваленте евро. Торги закроются согласно времени, указанному в описании товара, все ставки, сделанные после закрытия торгов, учитываться не будут. Не следует откладывать предложение вашей ставки до последнего момента, так как система может не успеть обработать вашу заявку, и ваша ставка не будет принята. Более детальную информацию вы найдёте здесь:
FAQ по интернет-аукционам.
Все ставки победителей подлежат комиссии 18%.
Тип
Écu d'or au soleil, 2e type
Монетный двор / Город:
Tours
Количество отчеканенных монет:
1841
Ориентация осей монеты:
12 h.
Комментарии о состоянии
Écu d'or frappé sur un flan un peu court, irrégulier et voilé. Monnaie ayant été nettoyée et présentant des hairlines dans les champs. Présence de quelques faiblesses de frappe
Лицевая сторона
---
Аверс: легенда:
(SOLEIL) HENRICVS. IIII. D: G. FRANC. ET. NAVA. REX (MM): , (LÉGENDE COMMENÇANT À 12 HEURES).

Аверс: описание:
Écu de France couronné.

Аверс: перевод:
(Henri III, par la grâce de Dieu, roi de France et de Navarre).

Обратная сторона
---
Реверс: легенда:
(MG) CHRS. VINCIT. CHRS. REGNAT. CHR IMP 1591.

Реверс: Описание:
Croix formée de quatre H fleurdelisées, avec un E dans un quadrilobe en cœur.

Реверс: перевод:
(Le Christ vainc, règne et commande).

Комментарий
---
Monnaie de la plus grande rareté avec la croix du revers formée de quatre H fleurdelisées. Aucun exemplaire retrouvé dans le FRANCIÆ IV. D'après nos recherches inédites en archives, ce sont 1841 écus qui ont été délivrés en 1591 à Tours avec 9 exemplaires mis en boîte. Il y eut quatre délivrances du 21 février au 22 octobre 1591. Le registre original des délivrances est conservé (AN, Z1b 1002) et nous donne les détails suivants : 21 février, délivrance de 480 écus d'or, 2 en boîte ; 26 mars, délivrance de 500 écus d'or, 3 en boîte ; 5 septembre, délivrances de 441 écus d'or, 2 en boîte ; 22 octobre, délivrances de 420 écus d'or, 2 en boîte.

Историческая справка
---
HENRI IV THE GREAT
(02/08/1589-14/05/1610)
King after the tragic death of Henri III, Henri de Bourbon, King of Navarre, down from last son of St. Louis, Robert de Clermont. With him begins the Bourbon dynasty that ruled France until the Revolution, died in France in direct line with the Comte de Chambord and still subsists in France, in his younger branch of Orleans and outside France in its elder branch, with the houses of Spain, Sicily and Parma. By the statement of 4 August 1589, Henry IV promised the maintenance of the Catholic religion and the meeting of a national council. The time had yet to civil war. The Duke of Mayenne was proclaimed king Cardinal de Bourbon, then a prisoner of Henry IV, under the name of Charles X. The king walked on Normandy and defeated Mayenne near Arques (21 September 1589) castle, but could not take Paris. Loyalist Parliament, chaired by Achille de Harley was installed Tours. Having conquered the whole of Normandy, except Rouen, Henry laid siege to Dreux (February 1590). Reinforcements with the Duke of Parma, Mayenne marched against him and met him at Ivry (March 1590). Once again, the Leaguers were defeated. The blockade of Paris, defended by the Duke of Mercœur began in May 1590. Mayenne and the duke of Parma having appeared at the end of the summer, Henri surrounded the city with a network of loyal towns and bided his time. By the Edict of Mantes (July 1591), it restores the system of the Edict of Poitiers. On the death of Charles X (1590), the Spanish put forward the rights of the Infanta Isabelle Claire-Eugenie, daughter of Philip II and Elizabeth of Valois. A Spanish garrison settled in Paris. The Duke of Savoy came into Provence, the Languedoc Spaniards. In December 1592, Mayenne summoned the Estates General in Paris. They opened in January 1593 and presented several claims: a Catholic king, periodicity States restoring provincial liberties, receiving the Council of Trent in France, but refused the application of the Infanta. A general truce was signed in July 1593, the same month in Saint-Denis, Henri IV abjured Protestantism. The League did not take long to disintegrate and the king was crowned in Chartres in February 1594. He entered Paris in March following. There was no form of repression. Picardy and the Duke of Guise submitted in turn, and Clement VIII gave absolution to Henry in September 1596. The war against Spain began officially in January 1595. Fontaine-beaten French (June 1595), the Spanish had to evacuate Burgundy and were continued until Franche-Comté. Mayenne submitted in October, followed Joyeuse and Epernon's. In Britain, Mercœur continued a guerrilla war until 1598. Operations against the Spaniards were hardly favorable to the French in 1596 and 1597. The peace treaty was signed by the two monarchies exhausted in May 1598 the Treaty of Vervins returned the terms of the Treaty of Le Cateau. By the Edict of Nantes (April 1598), declared perpetual and irrevocable, freedom of conscience was granted to all Protestants freedom of worship remained where it existed and was established in the Court. "Chambers of the edict," mid-parties were established to settle disputes between Catholics and Protestants. The party received a hundred places of safety, including Montpellier, Montauban and La Rochelle. When peace returned, the situation of the kingdom was not less disastrous. Henry IV shows the largest state qualities of man, forgetting the past, he surrounded himself with ardent Catholic, as Villeroy and President Jeannin, along with fervent Huguenots as Sully, the Superintendent of Finances in 1601. Skillfully, he gradually reduced the power of governors and parliaments. In 1600, he married Marie de Medici, who gave him a dolphin in 1601. In 1602, he executed Marshal Biron, governor of Burgundy, who conspired to raise the Catholics. In 1606, he marched against Sedan, capital of the Duke of Bouillon, who had fled the kingdom, and obtained his submission. The hostility persisted between France and the Habsburgs. In 1601, the Treaty of Lyon, the Duke of Savoy ceded to the King of France Bresse, Bugey, Gex Valromey. In Italy, however, the French influence still zero. France supported the United Provinces underhand. The side of the Empire, Henry was involved in the succession of Cleves and Jülich when he was assassinated by Ravaillac, May 14, 1610.